« Product Overview
AGX X8 RFID
4,7" Extremly rugged handheld for data collection of barcodes and RFID LF, HF or UHF tags.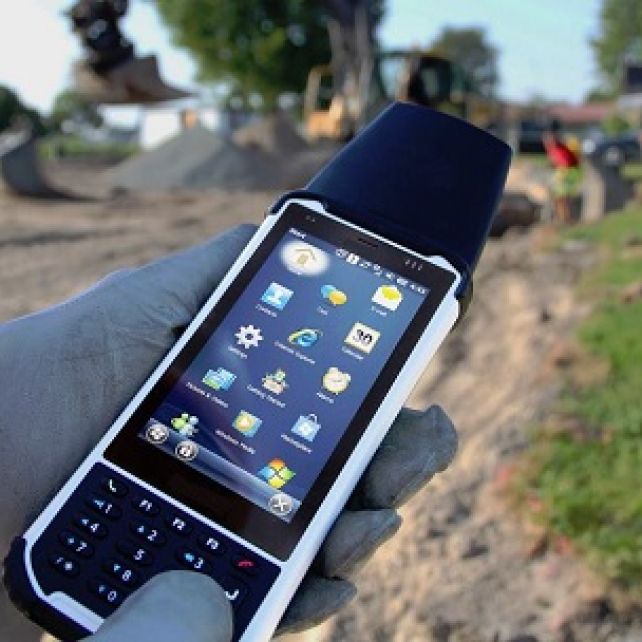 Designed to meet unique needs of heavy-tasking field professionals
One-Hand fitting comfort design
IP67 certified and 1.25m drop resistance
Large 4.7 inch display capacitive
5200mAh extra large capacity battery (19,2 Wh)
Powerful Texas Instruments 4470 Dual-Core @ 1.5GHz processor
8.0 MPixel auto focus camera & flash
AGX X8 series offers robust features to accelerate productive performance to heavy-tasking field professionals to stay active in retail, warehouse, distribution center, logistics and other field services wherever rugged mobile computers are deployed. It is mightily impressive that it has managed cram all the large features and ruggedness into naturally fitting smaller body without any added bulk than most of current competition in the ultra-rugged class.
Stunning design and naturally fitting one-hand grip
IP67. MIL-STD-810G and 1.25m drop resistance rugged packing
Extra bright 4.7" WVGA display
490gr incl. battery (Basis version)
Robust features to accelerate productive performance
Texas Instruments 4470 Dual-Core @ 1.5GHz processor to deliver superior computing response time to power-hungry enterprise applications
Windows Embedded Handheld 6.5.3 or Android 4.2.2 (Non-GMS/Google Play version)
5200mAh extra large battery capacity ensuring seamless field operation
Enterprise-grade WWAN, WLAN and BT features
Complete accessories portfolio
Wide ranges of data capture options
1D Laser SR, LR, EXR scanner
Omni-directional 2D CMOS imager scanner (SR, HD)
RFID (LF, HF, UHF)
8M Pixel photo and video recording feature
Frequencies
HF (13.56 MHz)
LF (125 - 134.2 kHz)
UHF (865 - 915 MHz)
Application Areas
Food
Time Management
Asset Management
Waste Management
Access Control and Security
Laundry
Pharma
Health Care
Library and Documents
Fashion and Apparel Industry
General Warehouse
Maintenance and Service
Ticketing
Onsite and Field Service
Transport and Delivery
Industry and Automotive