« Product Overview
Soredi SH Blackline
Ultra rugged industrial PC with 10", , 12", 15" or 21" touch display, WIN 7 and optional RFID (LF, HF, UHF) for extreme operation (indoor/outdoor) or in cool chain.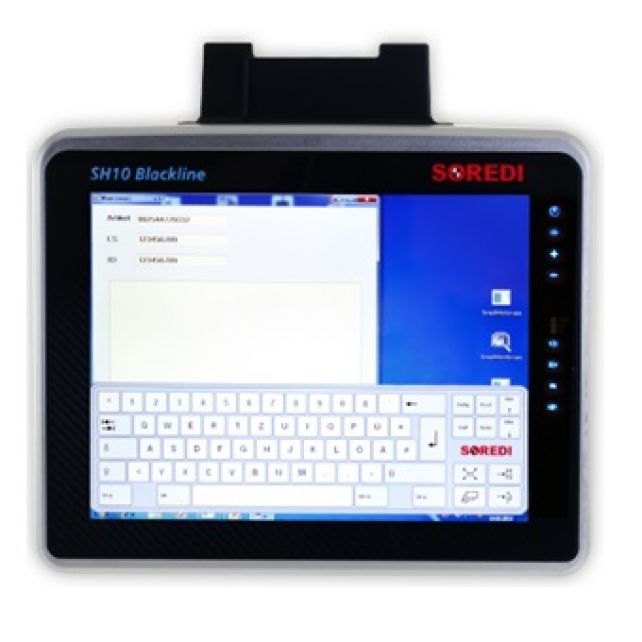 Features of the SH Blackline Series SH10 , SH12 , SH15 and SH21
The IPC was developed and produced in-house. They are specially designed for use in harsh environments. For this reason exclusively modern and industrial grade components are used for the Blackline products to ensure reliable operation under extreme conditions.
The four -millimeter-thick bulletproof glass on the screen resists acid, detergents and disinfectants as well as extreme mechanical stresses. Behind the glass is the projective capacitive touch panel. A special sensitivity control allows a reliable gesture control - and this even with gloves.

In its slim , lightweight body, the IPC include an energy- efficient AMD Dual-Core processor. Through the use of LED displays , they work easily in a temperature range from +55 ° C to -35 ° C. The IPC Blackline SH10 , SH12 , SH15 and SH21 are particularly suitable for use in harsh production environment on order picking and receipt of logistics centers or frozen storage .


Highlights:
Multi- touch operation through the glass front , even with gloves
particularly resistant to mechanical influences such as shock and vibration
Well protected against dust and moisture ( IP54 to IP65/67 )
Cool chain fit without heating at a temperature range of -35 ° C to +55 ° C
Display with LED backlight , WU XGA to HD quality , 1920 x 1080 at 21 inches
CPU: AMD dual core with integrated Radeon HD6250 graphics power
Windows ® 7 and Windows ® Embbeded Standard 7
Motion sensor , programmable unit controller
Extensive options such as integrated LF , HF or UHF reader for persons and / or pallets identification "
powered by
Frequencies
HF (13.56 MHz)
LF (125 - 134.2 kHz)
UHF (865 - 915 MHz)
Application Areas
Asset Management
Access Control and Security
Pharma
Health Care
General Warehouse
Maintenance and Service
Onsite and Field Service
Transport and Delivery
Industry and Automotive
Related Products
AGX RadioForce DO110 UHF
AGX RadioForce DTHF01
AGX RadioForce DTLF01